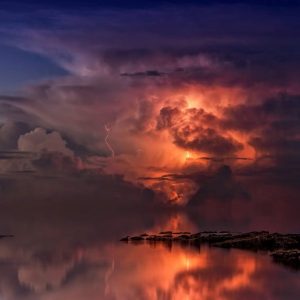 Read: Psalm 79
O God, the nations have come into your inheritance; they have defiled your holy temple; they have laid Jerusalem in ruins (Psalm 79:1, NRSV)
Psalm 79 is one of a spate of psalms that dare to confront an apparently indifferent God. The problem they pinpoint is God's silence in the face of overwhelming evil.
Here is a brief sample of some of the raw outbursts from this section of the psalter. Pray along if the psalm fits:
O God, do not keep silence; do not hold your peace or be still, O God! (Ps. 83:1)
Give ear, O Shepherd of Israel…stir up your might, and come to save us! (Ps. 80:1)
Has God forgotten to be gracious? Has he in anger shut up his compassion? (Ps. 77:9)
The problem, of course, is that these psalms DO still fit. Even if the specifics have changed (fill in the blank with today's particular atrocity), these prayers still express an all too contemporary sense of outrage.
A friend of mine once told me that Psalm 79 was the "evening psalm" of Christian households during the Nazi occupation of the Netherlands. He had this on the authority of his father, who had lived through those dark days as a young boy. (If you're wondering what the morning psalm was, it was 68: "Let God rise up, let his enemies be scattered….")
It's not hard to understand this desperate prayer's appeal for people in that situation. Even the cries for vengeance (justice?) in verses six and twelve are wholly human under the circumstances. In fact, my friend's father confessed that they were said, "With relish."
The presence of such prayers within Scripture may strike some as embarrassing or inappropriate. I would argue, however, that they are a gift. Jesus quoted Psalm 22:1 from the cross, after all, and asked God point blank, "Why have you forsaken me?" What is often overlooked is the faith that such candid questions assume. They are built on a relationship of trust that—even when that trust is shaken—dares to confront an apparently absent God.
Listen: Even When He Is Silent
The lines that gave birth to this anthem were found written on the wall of a cellar in Cologne where a number of Jews hid from the Nazis during WWII. This piece, composed by Kim André Aresen, is performed by the St. Olaf Choir, conducted by Anton Armstrong.
I believe in the sun even when it's not shining;

I believe in love even when I feel it not;

I believe in God even when he is silent.

Anonymous
Prayer: Deliver us from evil, O God. But when evil seems to be winning, help us to trust you anyway. Help us to believe in your power and your goodness, even when you are silent. Amen.
Introduction to the Tuned for Praise Series
Leonard Bernstein once observed that "music . . . can name the unnameable and communicate the unknowable."
In this series, we will take advantage of music's power to pick up where words leave off. Each Bible passage will be paired with a link to a recording that—in my judgement at least—interprets Scripture's words in ways that words cannot.
Enjoy!