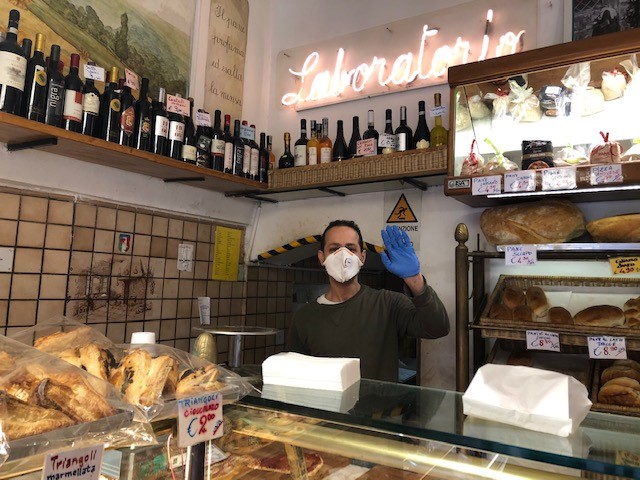 Read: Psalm 23
Surely, goodness and mercy shall pursue me all the days of my life…. (Psalm 23:6, author's translation).
Every few days I emerge from my apartment in Rome to forage for food. I squint mole-like in the sun as I make my way to a few favorite shops. There's the little grocery store between the Pantheon and the Piazza Navona. (It is actually a warren of six small rooms that make my mole spirit feel like I have gone to ground again.) Just around the corner from the grocery is the open-air market run by Marco and his mother. They sell me fruits, vegetables, and psychologically essential fresh flowers. (Smiles are free, though they are almost hidden behind the masks.) Finally, I swing by the bakery for my bi-weekly bread. (Daily bread is a dim, pre-pandemic memory.)
I love the bakery not only for the olive-studded focaccia that has become one of the highlights of my Roman lock-down life. I've also come to treasure the benediction that always accompanies my change. "Buon Viaggio," the baker says, waving his gloved hand.
Before the pandemic he would send me on my way with the more typical, "Arrivederci." But now, instead of "See you later," he tells me to "Have a good trip." Loosely translated, this can also mean, "Have a safe trip." Maybe that explains the shift.
We are all on a similar trip these days, and safety has become an understandable obsession. Still, as I read people's Facebook posts, it feels to me like we are all at different stages of the journey. Maybe it's because I am an Old Testament professor, but it also occurs to me that these stages can be described in the imagery of one of the Bible's best "journey" psalms: Psalm 23.
For some of us, the pandemic is still mostly a matter of inconvenience. God—or the government—is "making us lie down." In our frenetic society, this may not be a bad thing. There is less air pollution, for instance, and some of us are spending more time with our families. But not everyone is experiencing this forced rest stop in the same way. Some people's pastures are greener than others. Victims of domestic violence are doubly endangered when locked down with their abusers. Even those whose pastures are well and truly green are beset with anxiety and new responsibilities. And some don't get to lie down at all because they are "essential workers."
In recent days some of us have learned way more than we ever wanted to know about the "valley of the shadow of death" (KJV). The pandemic has become personal, either because we have lost loved ones, or because we have come down with the virus ourselves. Psalm 23's reminder that we are not alone in this dark valley has never meant more. But this is not a trip we wanted to take, and hearing other people complain about how bored they are is both annoying and surreal.
All of us are finding out what it feels like to sit at a table in the presence of our enemies. If we are fortunate, there is food on that table. If we are not fortunate, we are both hungry and surrounded by a virus that threatens to crash the dinner party. Either way, the Psalm's imagery is meant to sustain us. At the very least, it's good to know that God is not naïve about the fact that Covid-19 has us surrounded.
All of this is to say that we might want to be sensitive to the fact that we are not all at the same place on Coronavirus Road. Whatever our experience, however, we can take comfort from the fact that God's goodness and mercy will follow us. In fact, the Hebrew says they will pursue us. Who knew the Good Shepherd had two trusty sheep dogs named Goodness and Mercy?
Personally, I am grateful for the reminder that Goodness and Mercy are nipping at my heels, They are making sure I get home to God's house in one piece, after all. And they may be my best hope of a buon viaggio.
Ponder: How would you describe where you are on Coronavirus Road? How might you be more sensitive to others who are at a different place? How have you experienced God's goodness and mercy pursuing you?
Pray:  This prayer by Isaac Watts is based on Psalm 23.
My Shepherd, you supply my need,
most holy is your name;
in pastures fresh you make me feed,
beside the living stream.
You bring my wand'ring spirit back.
when I forsake your ways;
you lead me, for your mercy's sake,
in paths of truth and grace.
When through the shades of death I walk,
your presence is my stay;
one word of your supporting breath
drives all my fears away.
Your hand in sight of all my foes,
does still my table spread;
my cup with blessings overflows,
your oil anoints my head.
Your sure provisions gracious God
attend me all my days;
oh, may your house be my abode,
and all my work be praise.
Here would I find a settled rest,
while others go and come;
no more a stranger, nor a guest,
but like a child at home.
Listen to a recording of this hymn/prayer by the Choir of the Washington National Cathedral: My Shepherd Will Supply My Need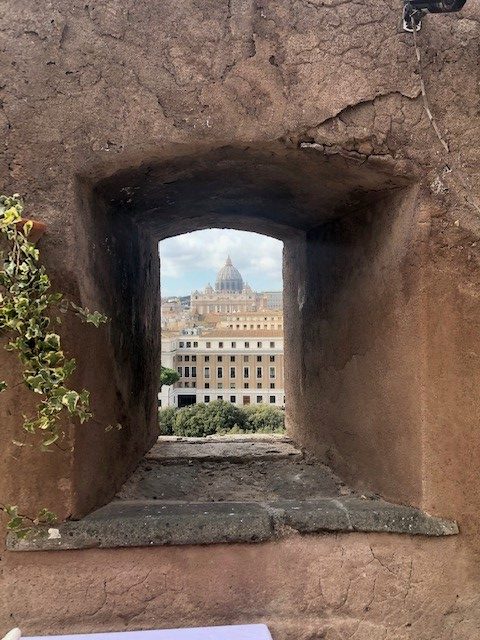 Introduction to the Roman Roads Series
As many of you know, I am spending my sabbatical in Rome, Italy. Thanks to the coronavirus, it is turning out to be something less than a "Roman Holiday." While a pandemic was not part of my original itinerary, it does lend a unique perspective to my writing these days. I offer these reflections along with my prayers for the health and safety of our world. May God bless and keep you all!