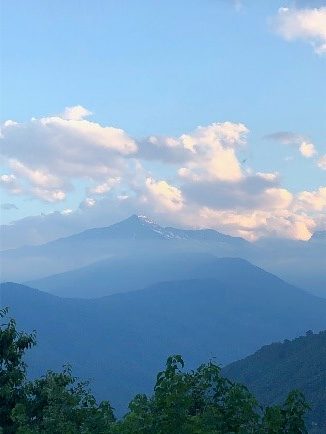 Read: Psalm 121
I lift up my eyes to the hills—from where will my help come? My help comes from the LORD, who made heaven and earth" (Psalm 121:1-2, NRSV).
"What goes down, must come up."
This may not be the way you remember the maxim, but it was one of the first lessons I learned when I began hiking in the mountains. Gravity does not negotiate. There is a steep price to pay (pun intended) for yielding to curiosity's question: "I wonder where this path goes…?" In my case, the path went well down the mountain, and I realized too late that gravity was not going to be my friend when it was time to turn around and go home.
The experience has given me a fresh angle on Psalm 121. Like most people, I had always assumed that the "hills" in this familiar psalm were a symbol of God's strength and protection. Sure, some commentators had raised questions about this, suggesting that hills and mountains were rife with bandits and Baal worshipers. But I had never found this negative spin on the meaning of the mountains very convincing.
Now, however, I'm beginning to wonder. While I have not yet encountered any Baal worshipers or bandits here in Italy, the mountains do have their share of dangers. "Oh, look—a wee snake!" I said cheerily to my hiking companion. "You might want to back up a bit," she advised calmly. "That's a viper."
While there are no snakes in Psalm 121, it is, shall we say, sufficiently sensible of conditions. There is danger there on the road going up to Jerusalem. This is one of a group of psalms of ascent, after all, composed by people on pilgrimage to the Temple. When one false step can spell disaster, it's good to know that God is not going to doze off on you (vv. 3-4). If a spot of shade is welcome even in northern Italy, it must have been even more welcome in the biblical pilgrim's climate (vv. 5-6). And if you're worried about being "moonstruck," God's got you covered there, too.
So, when we are trying to get inside these pilgrims' heads, I think we should consider the possibility that lifting up their eyes to the hills filled them with more fear than reassurance. The good news is that we don't really have to solve this riddle to feel the comfort of the following verse. Either way, the psalmist knows that "my help comes from the LORD." And in case you are unclear about that God's credentials, this is the same LORD who created the heaven and earth." So, this divinity is not going to have any trouble protecting us from slips and sunburns—or bandits and Baal worshipers for that matter.
If you are wondering what this ancient argument has to do with you, look no further than the news. It doesn't make much sense to deny the presence of danger. Gravity can kill you in the mountains; Coronavirus can kill you anywhere in the world. As Governor Cuomo observed, "This is a virus…you can't tweet at it. You have to treat it."
The protestant Christians here in Italy have a favorite hymn that remembers a particularly harrowing journey their ancestors made across the Alps back in the 17th century. They were fleeing the Inquisition, but the mountains must have presented an equally terrifying danger on that trip. Whenever I hear the refrain to that hymn, I imagine the parents bending down trying to reassure their children—and perhaps themselves. The refrain says:
Ascolta, ascolta, i passi del tuo Signore: cammina sulla strada, cammina insieme a te.
Listen, listen—the steps of your Lord: (He) walks on the road, (He) walks with you.
As we walk this dangerous road together, perhaps these words can remind us that we do not walk it alone. Listen for God's footsteps beside you. They are the footsteps of the one "who made heaven and earth." They are the footsteps of the one who will not let your foot slip…the one who will keep your life forevermore.
Ponder the words to Footsteps, an anthem by Craig Courtney from Beckenhorst Press.
Pray: We lift up our eyes, O God, and we fear the road ahead. Use that fear to make us alert to the real and present danger. But walk beside us as well, and give us courage for whatever comes.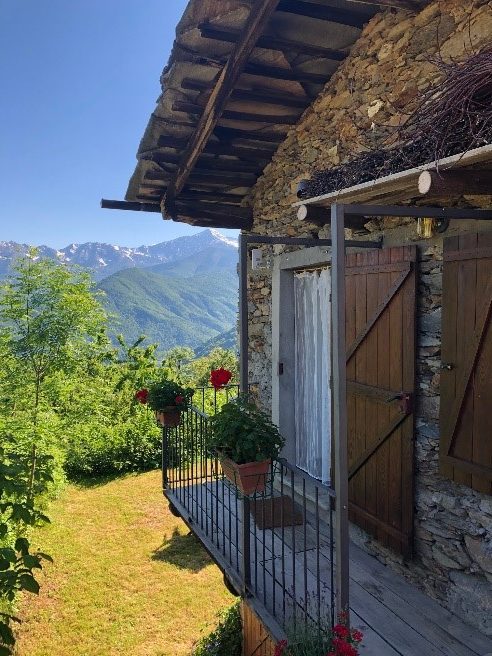 "The View from Here" Series
As many of you know, I am spending my sabbatical in Italy. After living for several months in the heart of Rome, I recently made a move to the mountains. (The Italian side of the Cottian Alps, to be precise—southwest of Turin and very close to the French border.) The transition was tricky, what with the pandemic and Italy's tight restrictions on travel. But I am grateful for the spectacular change of scenery after being locked down in a two-room apartment. While the view has changed, I will continue to offer what I hope is a unique perspective on Italy—and the world—right now.
And yes—the picture above really is the place where I am living. Now you know why I'm calling this series, "The View from Here." I hope that you will be able to enjoy that view vicariously, as well as some of the deep peace of this place.
Shalom,