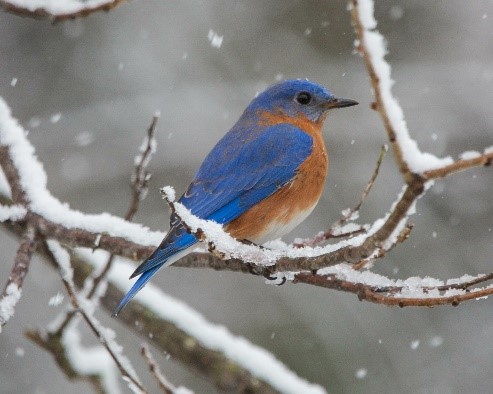 Read: Psalm 96 and/or 98
Let the heavens be glad, and let the earth rejoice; let the sea roar, and all that fills it; let the field exult, and everything in it. Then shall all the trees of the forest sing for joy before the LORD; for he is coming, for he is coming to judge the earth…. (Psalm 96: 11-13a, NRSV).
For decades, my grandmother, Bernadine Bielema Green, wrote a weekly newspaper column called the "Spring Valley News." Since Spring Valley was not a town, but a sleepy little valley in rural Illinois, there was rarely any news of the conventional kind. But that did not mean there wasn't a lot going on.
Grandma (Dena to her friends) regularly reported on the day to day life of "all creatures great and small." Sometimes, this included the antics of her grandchildren. (This explains the frequent refrain, "Don't tell Grandma!" when we were getting up to something that we didn't want our parents to read about in the paper.) But more often, she turned her attention to the flora and fauna right outside her kitchen window. The bluebirds who made their home in a box on the fence post at the edge of the pasture were particular favorites.
These bluebirds achieved a kind of celebrity status. Long after she had stopped writing the column, people would smile and say, "Oh, yes. I always turned to Dena's column first to find out what was going on with the bluebirds!"
I used to assume that Grandma's preoccupation with the bluebirds was the result of Spring Valley's lack of breaking news. Pretty much every day was a slow news day in the valley, after all. But in reading back over my grandmother's columns, I've begun to suspect that her choices reflected a genuine interest—and a different set of priorities. She reported on things she knew to be important—in the eyes of God and, increasingly, in the eyes of many of her readers.
If we have eyes to see, there are hints of this same set of priorities in Scripture—and in certain Advent and Christmas carols. Isaac Watts' iconic carol, "Joy to the World" is one of these, and it is based on Psalm 98. Did you ever wonder why "fields and floods, rocks, hills, and plains" were being urged to "repeat the sounding joy"? It's because Christ's coming is breaking news for them as well as for us. Romans 8:22 describes "the whole creation" as "groaning in labor" as it anticipates the renewal of all creation that is signaled in Jesus Christ.
But if you're looking for a less familiar Advent Carol with similar insights, check out "People, Look East" by Eleanor Farjeon. While people are the focus of the first verse, the remaining verses address other parts of creation, calling them to "look east" to greet the coming Christ. Here is my favorite verse:
Birds, though you long have ceased to build, guard the nest that must be filled.
Even the hour when wings are frozen God for fledging time has chosen.
Grandma would have loved that. It's her kind of breaking news.
Ponder: Why is Jesus good news for all creation? How does our preoccupation with people blind us to the bigger story? What are the consequences?
Listen: This video mix of People, Look East, features choir, harpsichord, and recorder. The tempo is a bit slow, and there are a few missed opportunities in terms of visuals (how hard would it be to show a bird?!), but it is lovely, nonetheless. For a bit more background on Eleanor Farjeon (who also wrote the words to "Morning Has Broken"), see this article by Michael Hawn.
Pray:                  
Let every heart prepare him room, and heaven and nature sing.
(from "Joy to the World" by Isaac Watts, v. 1)
Introduction to the "God With Us" Series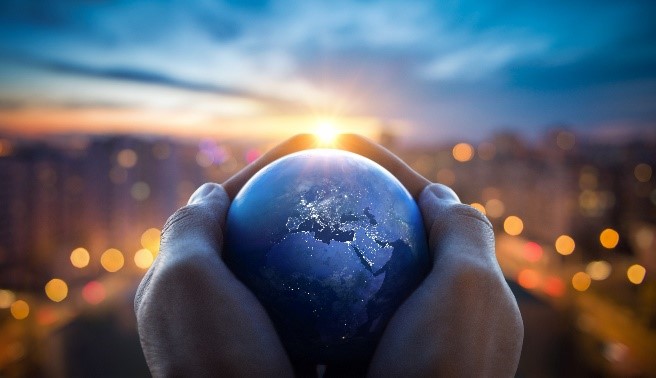 Emmanuel. It means "God with us." If ever there was a time to pray for God to be with us, it's now.
In this series, we let Advent and Christmas hymns lead us in that prayer. Since December is short and we need God with us now, we're starting early. Besides, there are so many hymns and so little time! Some of the featured hymns will be familiar, and some deserve to be more familiar. But all of them offer unique insights into the miracle of the incarnation.
May these reflections help you feel God's saving presence in your life and in the life of the world right now.
Come, O Come, Emmanuel!