Read: Luke 2:1-14
This will be a sign for you: you will find a child wrapped in bands of cloth and lying in a manger (Luke 2:12, NRSV).
My daughter recently sent me a picture of a "socially distanced nativity scene."
My first thought was, "Only in 2020." But my next thought was, "Of course. That's my girl!"
I remember the first time I caught my kids messing with the manger scene. It was over 20 years ago. I had just come home from work, and as I walked past the manger scene we had set up the night before, I noticed a few unorthodox additions. Elmo and Barbie were socializing with the shepherds. A Tyrannosaurus rex was hot on the heels of the wise men. Batman had the best seat in the house, wedged in between Mary and Joseph. His wings were outstretched (protectively, I hoped) over the whole holy family.
My initial reaction was, "That's not right." But by the grace of God I resisted the urge to banish Batman and his friends. Might there be something more going on here, I wondered?
Right on cue, the kids came running, eager to show off their improvements to the traditional scene. Batman and his friends, they explained, had wanted to see the Baby Jesus, too.
Of course they had. In that moment I understood that my children had grasped something essential about the story that I—in my literalism—had almost missed. The Christmas story is all about incarnation, after all. Batman in the manger was their way of saying, "Welcome to our world, Baby Jesus!"
In the decades since, our family nativity scenes have grown increasingly crowded. It's our way of personalizing the old, old story. So, I suppose it's not all that surprising that 2020 should inspire a socially distanced scene. This, too, is the world that Jesus risks everything to save. This, too, is the world that God embraces in the incarnation.
Something of the same instinct prevails in Edwin Spear's carol, "It Came Upon the Midnight Clear." While the carol is set on the hillside with the shepherds, its subject is the "peace on earth" for which its author was longing in 1849. A Unitarian pastor, Spear was recovering from a breakdown of some kind. (Burned out pastors of 2020, take note.) The nation was recovering from the Mexican-American war, even as the tensions that led to the Civil War were heating up. (Racially and politically polarized U.S. citizens of 2020, take note.) No wonder Spear wrote this verse that cheery anthologies sometimes prefer to skip:
Yet with the woes of sin and strife,
the world has suffered long;
beneath the heav'nly hymn have rolled
two thousand years of wrong,
and warring humankind hears not
the tidings which they bring.
O hush the noise and cease your strife
and hear the angels sing.
This may be just the carol we need for 2020. It may be a very 2020 way to celebrate the incarnation.  It may be one way the "weary world" of 2020 says, "Welcome to our world, Baby Jesus."
Even if we have to be distant from one another this Christmas, God is not distant from us. More than ever, Jesus' birth reminds us that God is with us.
Ponder this verse from "It Came Upon the Midnight Clear." How does it speak to you this year in ways that it may not have before?
And you, beneath life's crushing load,
whose forms are bending low,
who toil along the climbing way
with painful steps and slow,
look now, for glad and golden hours
come swiftly on the wing:
O, rest beside the weary road,
and hear the angels sing.
Text by Edwin Spears, 1849, alt.
Listen to this recording of "It Came Upon the Midnight Clear" by Chanticleer. For the full (and slightly updated) text of the hymn, see this link or #123 in Glory to God: The Presbyterian Hymnal.
Pray: Bring peace and health to your weary world, gracious God. Give strength and hope to all of us who make our way to the manger "with painful steps and slow."
Introduction to the "God With Us" Series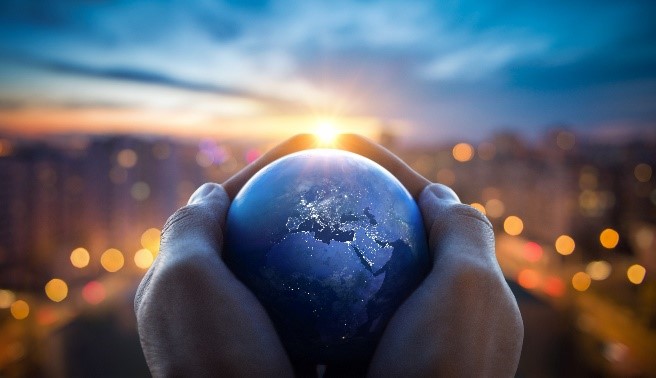 Emmanuel. It means "God with us." If ever there was a time to pray for God to be with us, it's now.
In this series, we let Advent and Christmas hymns lead us in that prayer. Since December is short and we need God with us now, we're starting early. Besides, there are so many hymns and so little time! Some of the featured hymns will be familiar, and some deserve to be more familiar. But all of them offer unique insights into the miracle of the incarnation.
May these reflections help you feel God's saving presence in your life and in the life of the world right now.
Come, O Come, Emmanuel!