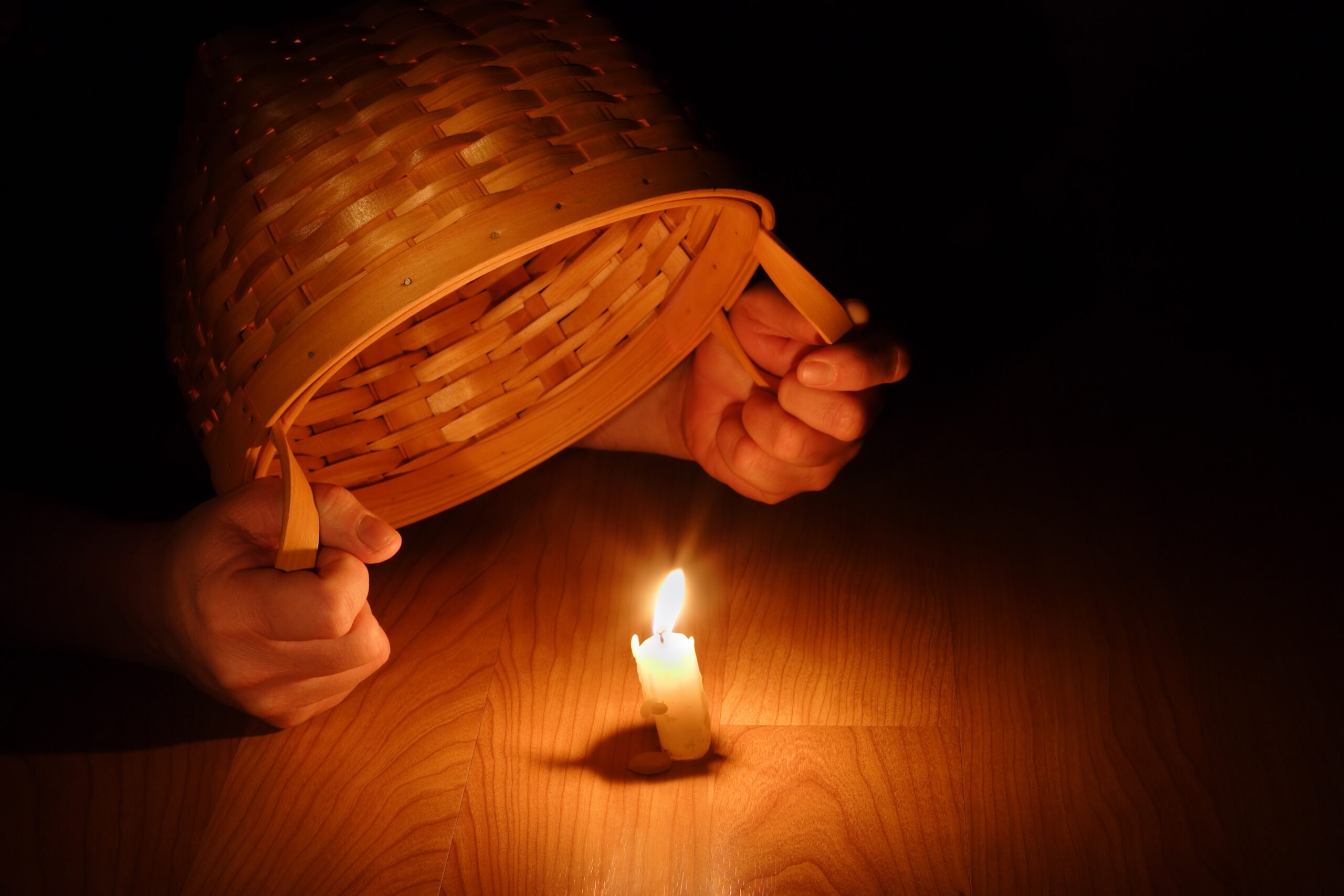 Read: Matthew 5:14-16
You are the light of the world. A city built on a hill cannot be hid. No one after lighting a lamp puts it under the bushel basket, but on the lampstand, and it gives light to all in the house. In the same way, let your light shine before others, so that they may see your good works and give glory to your Father in heaven (Matthew 5:14-16, NRSV).
Jesus may have actually gotten a laugh for this line: "No one after lighting a lamp puts in under the bushel basket…." It's a ridiculous idea, after all. For one thing, it would be a fire hazard. For another, it would negate the purpose of lighting the lamp in the first place.
So, whether we are first or twenty-first century believers, we know better than to hide our light under a bushel.
Lately, however, I've been wondering whether it's enough just to know better. Sometimes the basket itself seems to have a mind of its own. Here's what I mean.
There is something about this pandemic that stifles the soul. It's as if the psychological symptoms reflect the physical effects of COVID-19. We are weary and depressed—suffocated by isolation and anxiety.
This bushel basket feels like it's out to get us. But if that's the case, what can we do?
In these circumstances, it's not enough proclaim, "Just say NO to bushel baskets!" Although I am not an expert, I can personally vouch for a generous prescription of exercise, therapy, Netflix, and prayer. But something else occurred to me while re-reading Louise Penny's wonderful Inspector Gamache mysteries. A trip to Penny's fictional village of Three Pines is itself refreshing, of course, but there was a particular description that helped chase back my "basket".
In The Long Way Home, Penny describes one of her characters this way: "Marianna ate it up, a glutton at a bad news banquet."
We all know someone like Marianna. They are not happy unless they are unhappy. They gorge themselves on bad news, and they can't wait to share it with you.
If we're honest, however, we all have our "Marianna moments." It's easy to become addicted to the news. We reach reflexively for our phones, eager to feed at the bad news buffet.
Since reading that description of Marianna, I have added another item to my pandemic prescription. I turn off the news sometimes. I intentionally leave my phone on another floor of the house. I put on some music. (Ola Gjeilo works wonders.) In short, I limit my intake at the bad news banquet.
I know that Jesus wasn't talking about psychological strategies for surviving a pandemic when he urged us to "let your light shine before others." But if we're going to shine, we may need some strategies to keep that basket from getting the better of us.
It helps, of course, to remember that Jesus is the light of the world. At the end of the day, it's not just a matter of "this little light of mine." Jesus' light is a match for any basket.
Ponder: What are your strategies for keeping the basket at bay? What is one small way you might help someone else keep their basket from quenching their light?
Pray: We are not strong enough to lift the basket by ourselves. Help us to do what we can—for ourselves and for others. Then come in your power to do the heavy lifting, so that we may give light to all in the house.